Cherry Creek Vista Homes
Presented by Vickie Hall
Cherry Creek Vista Homes
Cherry Creek Vista, my most cherished neighborhood, enjoys a convenient location in the Denver Tech Center (DTC), just a stroll away from the amenities at Cherry Creek Reservoir.

The neighborhood schools belong to the esteemed Cherry Creek School District, including the elementary schools Cottonwood Creek and High Plains. Campus Middle School caters to the middle school students, while the Blue Ribbon Cherry Creek High School ensures high-quality secondary education.

Cherry Creek Vista offers a vibrant community life with a pool, tennis court, and a plethora of parks and playgrounds. During summer, the neighborhood truly comes alive. Kids can spend delightful hours at the community swimming pool, supervised by a lifeguard, and enjoy hot dogs for lunch, giving parents a precious couple of hours for themselves.

Home prices in Cherry Creek Vista range widely from $450,000 to $1,500,000, catering to various budgets. The housing styles are diverse, featuring 2-story homes, tri-levels, ranch homes, and even a few duplexes, built between 1972 and around 2008.

With all these attributes, Cherry Creek Vista stands as one of the most desirable neighborhoods in the Denver Metro area.


List of Zipcodes in Cherry Creek Vista Homes
| Zip Code | Zip Code Name | Zip Code Population |
| --- | --- | --- |
| 80111 | Centennial | 32,120 |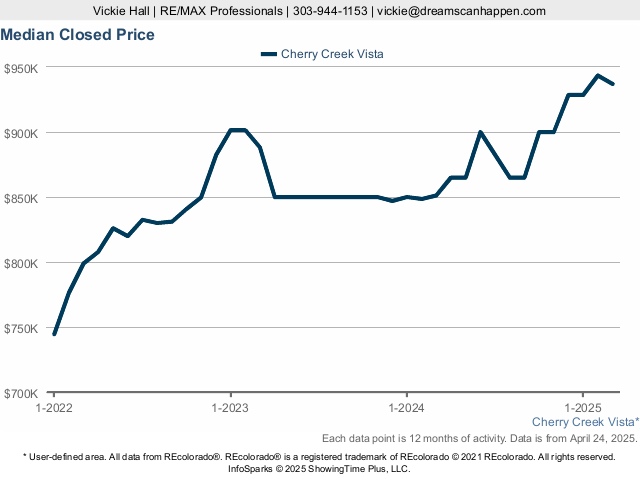 How much is your Home worth? Click here to know...
Review current market value estimates for your home, or anyone else, anywhere in the USA.
Need more listings? Click here to search now...
15 minutes updated and accurate properties direct from your local agent. Home Evaluation. Get Loan Pre-Qualified.
Vickie Hall
RE/MAX Professionals
6020 Greenwood Plaza Boulevard
Greenwood Village, CO 80111, USA
Quality of Life
Climate & Environment
Schools & Education
Safety & Crime
| | Zip Code | City | County | State | National |
| --- | --- | --- | --- | --- | --- |
| Cost of Living Index | 105.0 | 86.0 | 86.0 | 110.0 | 100.0 |
| Health Cost Index | 115.0 | 96.0 | 96.0 | 119.0 | 100.0 |
| Commute Time | 19.0 | 24.0 | 24.0 | 25.0 | 24.8 |
| Commuting by Bus | 2.0% | 9.0% | 9.0% | 1.2% | 2.1% |
| Commuting by Carpool | 7.0% | 14.0% | 14.0% | 11.0% | 13.5% |
| Commuting by Auto | 84.0% | 73.0% | 73.0% | 80.0% | 79.1% |
| Working at Home | 7.0% | 4.0% | 4.0% | 5.2% | 4.7% |
| | Zip Code | City | County | State | National |
| --- | --- | --- | --- | --- | --- |
| January Average Low Temperature | 15.9 °F | 15.2 °F | 15.2 °F | 13.7 °F | 22.6 °F |
| July Average High Temperature | 89.5 °F | 88.0 °F | 88.0 °F | 77.5 °F | 86.1 °F |
| Annual Precipitation (inch) | 18 in. | 16 in. | 16 in. | 19 in. | 38 in. |
Zip Code
City
County
State
National

Violent Crimes

Calculated annually per 100,000 residents

Assault
158.1
204.6
476.6
246.3
250.2
Murder
2.2
2.5
9.2
3.8
5.0
Rape
68.7
71.4
97.8
67.2
42.6
Robbery
65.8
64.4
165.3
63.6
81.6

Property Crimes

Calculated annually per 100,000 residents

Burglary
242.9
347.5
544.2
348.4
340.5
Theft
327.2
1,840.0
2,473.0
1,858.3
1,549.5
Motor Vehicle Theft
606
603.4
726.3
384.0
219.9